Regional Things To Do & See
Perfectly situated just minutes away from the town centre, beaches and fishing spot, our park is the ideal hub for you to launch your holiday's adventures.
Koroit
The quaint town of Koroit is well worth a visit. The town has been hailed as one of Australia's most complete examples of an early Irish settlement and has become renowned for its annual Koroit Irish Festival, which is held in April each year, and attr …
Tower Hill State Game Reserve
Take a drive to Tower Hill, a state game reserve set on a dormant volcano. Here you can see a variety of native wildlife including emus, kangaroos, koalas and birds. The reserve includes a number of picturesque walks, barbeque and picnic facilities and …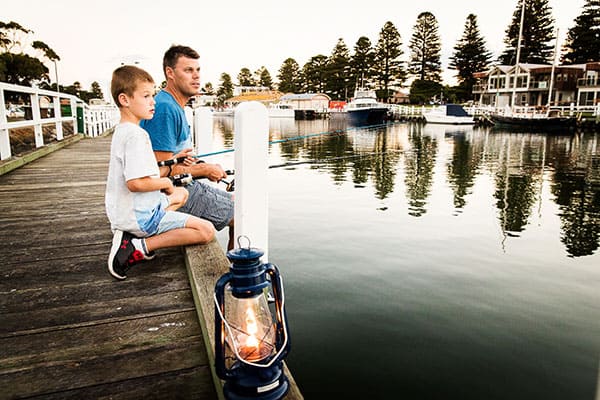 Fishing
Killarney beach is a recognised fishing spot. Fishers commonly catch whiting, snapper and flathead. Salmon are also regularly caught during the winter months and garfish are often caught in summer
Port Fairy
The seaside town of Port Fairy is one of Victoria's most popular tourist destinations and has been internationally recognised as the world's most liveable community. The town is located at the point where the Moyne River enters the Southern Ocean and i …
The Port Fairy Folk Festival
The Port Fairy Folk Festival was established in 1977. The festival has put Port Fairy up front and centre on the world stage of folk music.
The festival is now a part of the DNA of this wonderful township and reinforces its rich cultural traditions as well celebrating new and innovative music and art.
Bookings for a cabin or a site during the Folk Festival are open on the 1st of September. Bookings are processed in the order received.
Explore our accommodation options…