We have a range of large grassy powered and unpowered campsites that are sure to meet your needs. Talk to our friendly staff to pick the spot that is just right for you.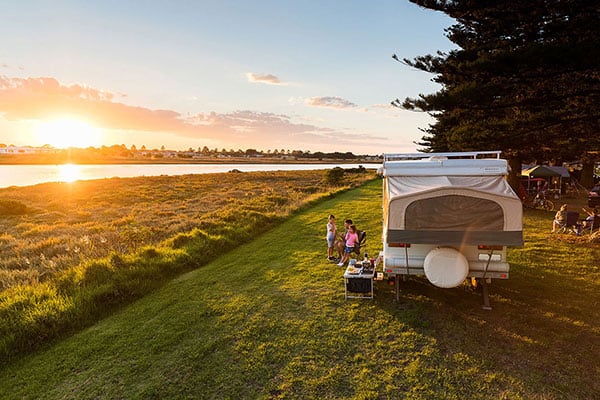 Powered Sites
We have a number of Powered Sites available for those who wish to bring their caravan or motorhome. The sites come with power and water connections, as well as access to communal bathroom and laundry facilities.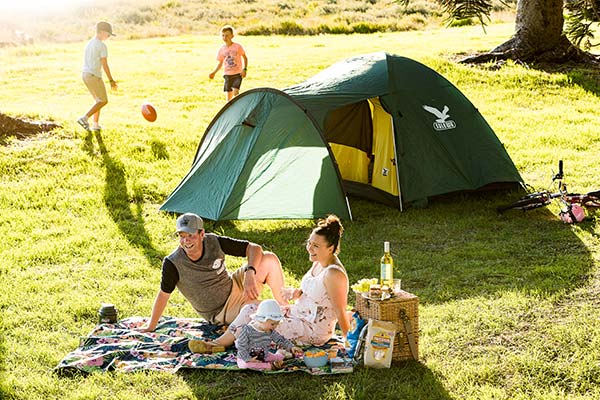 Unpowered Sites
We offer a range of unpowered camping sites, perfect for those who want to get back to nature. The sites are spacious and well-maintained,  close to communal facilities and  offer a stunning backdrop of the Moyne River. 
Frequently Asked Questions
What size are the sites?
Powered sites are on average 9 metres by 9 metres. Unpowered sites are on average 8 metres by 9 metres.
What is the standard rate for a powered/unpowered site?
Off-peak $39 for Powered, $30 Unpowered (based on two people) See our rates page for the most up to date rates.
Is WiFi access available at the park?
Yes, FREE WiFi is available.
How many powered & unpowered sites are available?
71 powered sites (up to 371 in peak times) 23 unpowered sites (up to 166 during Folk Festival weekend).
Can sites be purchased next to one another?
If there is availability this may be arranged.
Are visitors allowed to light fires or firepits?
Fires are not permitted in the caravan park.
Are dogs allowed to stay at the park?
Well behaved dogs are welcome with site bookings and in some Holiday cabins.
Are all of the sites flat and grassy?
We endeavour to keep our site grassed and level. We do not have any concrete slabs.
Park Specials
Check out what amazing deals you can pick up for your next holiday to Port Fairy.
Explore what else makes us great…
Great location and excellent amenities and staff
Kool Man
21. November, 2022.
Very nice quiet park great location accross road to beach
Denise Hawkins
30. October, 2022.
Here on a wet and windy weekend but great park to stay.
Jenny Foley
29. October, 2022.
Hessie Mills
26. September, 2022.
Excellent in every respect... beautiful gardens to walk around, incredible carved statues. Really good thoroughly enjoyed our stay
Jenny Marshall
20. September, 2022.
Very nice park dog friendly friendly staff best showers 🚿
Ruth Morrison
4. September, 2022.
Ray Phillips
30. August, 2022.